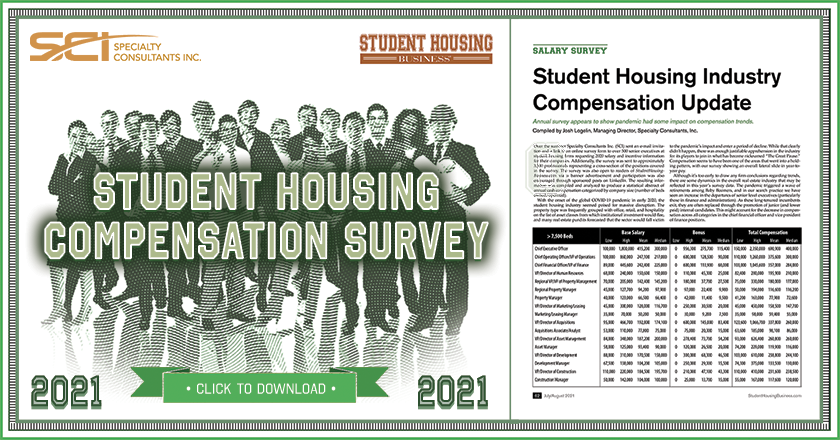 With the onset of the global COVID-19 pandemic in early 2020, the student housing industry seemed poised for massive disruption. The property type was frequently grouped with office, retail, and hospitality on the list of asset classes from which institutional investment would flee, and many real estate pundits forecasted that the sector would fall victim to the pandemic's impact and enter a period of decline. While that clearly didn't happen, there was enough justifiable apprehension in the industry for its players to join in what has become nicknamed "The Great Pause." Compensation seems to have been one of the areas that went into a holding pattern, with our survey showing an overall lateral slide in year-to-year pay.
Although it's too early to draw any firm conclusions regarding trends, there are some dynamics in the overall real estate industry that may be reflected in this year's survey data. The pandemic triggered a wave of retirements among Baby Boomers, and in our search practice we have seen an increase in the departures of senior-level executives (particularly those in finance and administration). As these long-tenured incumbents exit, they are often replaced through the promotion of junior (and lower-paid) internal candidates. This might account for the decrease in compensation across all categories in the Chief Financial Officer and Vice President of Finance positions.
A full copy of the survey can be downloaded at 2021 Student Housing Compensation Survey.