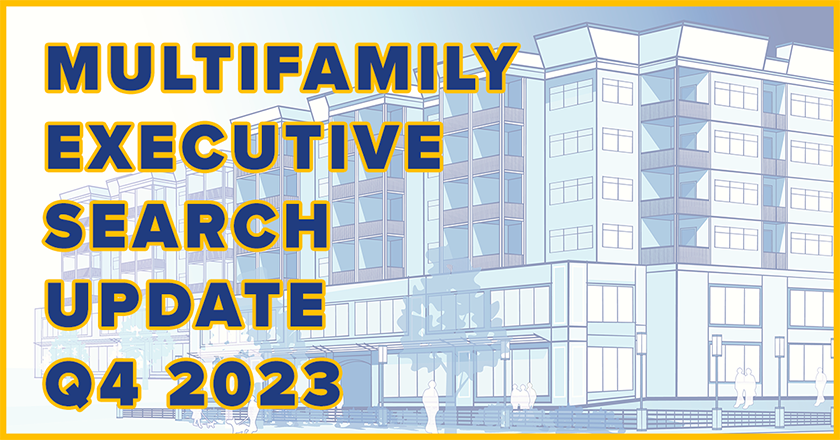 Even with market headwinds gathering in the second half of the year, multifamily continued its reign as real estate's strongest asset class – but not without strategic adjustments that could shape the sector well into 2024
3 MIN. READ
Multifamily has always been our company's most significant market sector. While our year-over-year search volume isn't down significantly due to current economic conditions, the types of assignments we're seeing are clearly shifting in response to strategic adjustments by our clients. Here are a few of our company's insights on the state of hiring in the multifamily sector along with some examples of our related search activity.
Property/Asset Management
With major acquisition and development activity largely in limbo awaiting a firm direction on interest rates and reliable price discovery, firms have begun to shift their emphasis to improving asset management and property operations, either by strengthening their teams or even bringing management in-house.
Development
While the challenging lending environment has made new development more difficult for many companies (with some reportedly planning cuts of as much as 30% to their development staffs), partner-level hiring continues at organizations with business models that aren't reliant on debt financing or are taking a longer-term approach in their strategies.
Investing
We're hearing from an increasing number of private equity firms and institutional companies that are aligning themselves to continue investing under current market conditions in three primary ways:
Preparing to deploy dry powder for distressed assets
Establishing debt platforms to fill financing gaps
Exploring opportunities in affordable/workforce housing.
There has also been considerable hiring activity focused on upgrading capital markets talent.