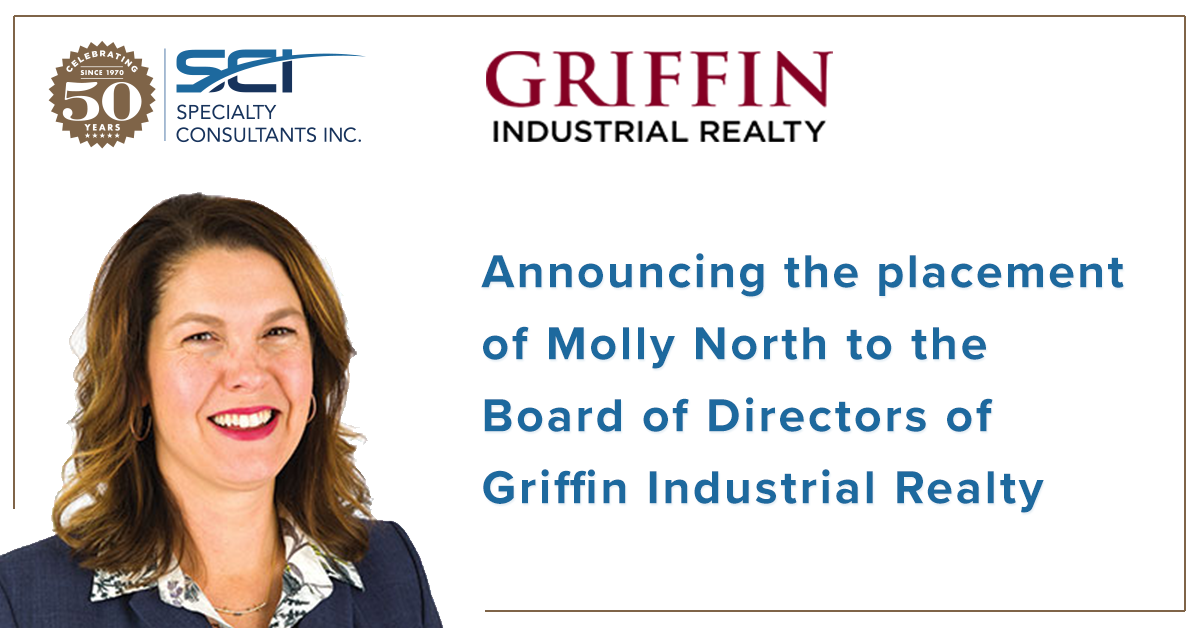 SCI is pleased to announce the placement of Molly North to the Board of Directors of Griffin Industrial Realty.
SCI Managing Directors Albert DeMauro and Craig Friday conducted the search. This is their second placement with Griffin.
Ms. North has over 20 years of business and real estate experience, with the last 13 years at Al. Neyer. Ms. North has served as President & Chief Executive Officer at Al. Neyer since April 2015, prior to which she served as the Chief Financial Officer since July 2012. Prior to Al. Neyer, Ms. North worked at Fifth Third Bank in various roles, including commercial real estate lending, and at Ernst & Young in Audit and Global Services. Ms. North received her B.B.A degree in Finance and Accounting from the University of Cincinnati Carl H. Lindner School of Business.
"I am honored and delighted to join the Board of Directors at Griffin and look forward to helping the Company continue to drive market expansion as well as strategic growth," said Ms. North. "Griffin is embarking on its next growth phase, and I am happy to tap into my experience to help develop the best solutions for the future."
Griffin is a real estate business principally engaged in developing, acquiring, managing and leasing industrial/warehouse properties. Griffin currently owns 41 buildings totaling approximately 4.6 million square feet (approximately 4.1 million of which is industrial/warehouse space) in Connecticut, Pennsylvania, North Carolina and Florida in addition to over 3,400 acres of undeveloped land.
Ms. North's appointment comes at a major point in Griffin's history. The company recently announced that its Board of Directors has unanimously approved a plan for the company to pursue conversion to a Real Estate Investment Trust ("REIT"). It also named industry leader Gordon DuGan as a Director and Non-executive Chairman of its Board of Directors. Mr. DuGan is the former Chairman and Chief Executive Officer of Gramercy Property Trust, an industrial-focused REIT that was acquired by Blackstone Real Estate Partners in 2018.
The full press release on Ms. North's appointment can be found here.